John E. Hoover, Ph.D.
John has honed his expertise in working with people since 1970 as a licensed counseling psychologist in private practice. His creatively-designed workshops and trainings have received excellent reviews. John creates a safe and respectful environment where each person in a group can participate fully. John guides people in resolving sensitive issues, enhancing communication and creating common understanding within a team. His depth of experience and professional skill come from working with small and large corporations, families in business, couples and individuals.
John earned his B.A. in Psychology at Otterbein College, Westerville, Ohio; his M.A. in Human Relations and his Ph. D. in Counselor Education at The Ohio University, Athens, Ohio. He completed a two-year APA-approved Internship at The University of Texas, Austin, Texas. He is currently a Licensed Psychologist and Health Service Provider, State of Tennessee, Health Related Boards.
John is a Senior Consultant with Impact Associates, Maryville, Tennessee, and co-created "The Emotionally Intelligent Manager" corporate training program. He has served as president of the Knoxville Area Psychological Association. Since the 1980s, John has actively volunteered in the More to Life Program, creating training models, facilitating groups, teaching courses and presenting community workshops.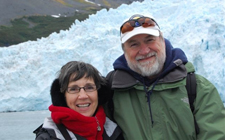 Together, John and Sharon blend their styles and talents, providing you with broad expertise, professional, objective, compassionate support and a trusting relationship. They have been married since 1962 and live on a small farm in South Knoxville. John and Sharon have two adult daughters, Karin and Elizabeth.